Samsung's next Unpacked event is scheduled for July 26. The Korean giant is expected to unveil the Galaxy Z Fold5, Galaxy Z Flip 5 and Watch 6 series and likely the Galaxy Tab S9 line as well. As far as we know, the latter will consist of three tablet models – the Tab S9, Tab S9+ and Tab S9 Ultra.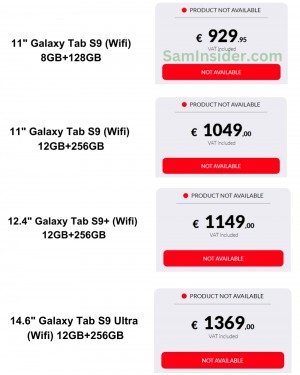 Galaxy Tab S9 family pricing
As per a fresh new leak, the vanilla Tab S9 will be priced at €929 for the 8GB/128GB Wi-Fi model and €1049 for the higher-tier 12GB/256GB Wi-Fi one. The Tab S9+ is expected to cost €1149 for a 12GB/256GB Wi-Fi model, whereas the Tab S9 Ultra is said to go for €1369 for the same 12GB/256GB Wi-Fi one.
Naturally, these prices are not exhaustive since we also expect cellular versions of the tablets to exist. Plus, pricing will likely still vary from EU market to market due to different VAT. Though it should be noted that these prices do include VAT as they are.
As far as specs go, we expect the Tab S9 Ultra will have a 14.6-inch Dynamic AMOLED 2X WQXGA+ display, up to 16GB RAM and 1TB of storage, an 11,200 mAh battery with 45W charging and a body measuring 326.4 x 208.6 x 5.5mm. Camera-wise, there should be a dual 12MP front-facing setup and a dual 8MP plus 13MP rear one.
The Tab S9+ will have a 12.4-inch Dynamic AMOLED 2X WQXGA+ display, up to 12GB of Ram and 512GB of storage, a 10,090 mAh battery and a 285.4 x 185.4 x 5.7mm body. Cameras include a single 12MP selfie and a 13MP plus 8MP rear setup.
Finally, the vanilla Tab S9 should have an 11-inch Dynamic AMOLED 2X WQXGA display, up to 12GB RAM and 256GB storage, an 8,400 mAh battery and a 254.8 x 165.8 x 5.9mm body. Cameras should include a 12MP selfie cam and a 13MP rear one.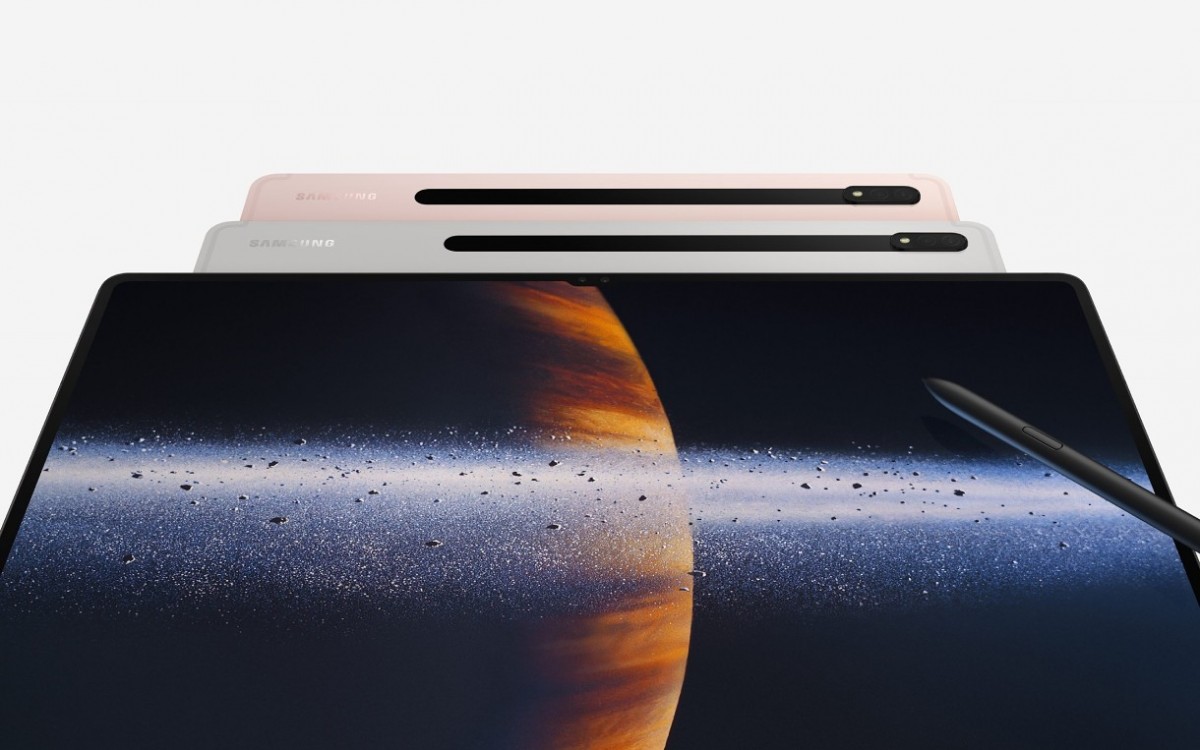 All three tablets are expected to rock a Snapdragon 8 Gen 2 for Galaxy chipset, optical fingerprint readers, four-speaker setups and S-Pen support. Also, as a new addition – IP68 ingress protection is likely.