The world of universal remotes has witnessed a remarkable creation by Max Kern: OMOTE, an open-source alternative to Logitech's discontinued Harmony line.
Designed as a replacement for Logitech's discontinued Harmony range, OMOTE offers an impressive set of features and customization options and features a 2.8″ capacitive touchscreen, enabling users to effortlessly switch between devices and settings.
Did we mention that it looks nice and sleek too? Feast your eyes below.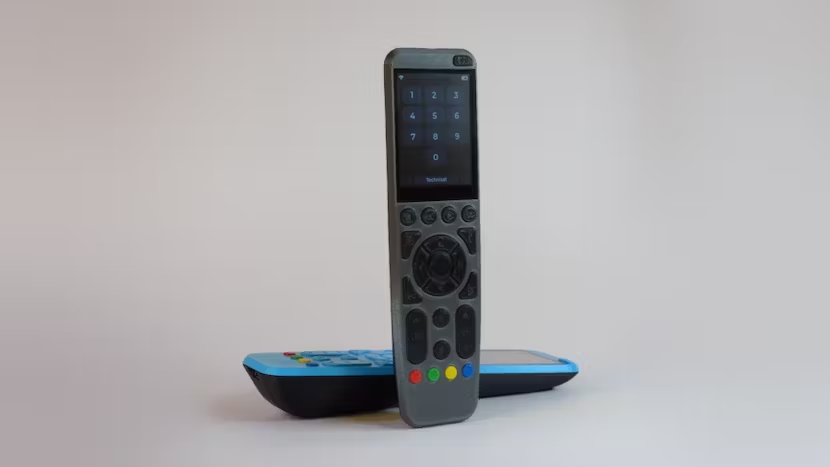 OMOTE's standout feature lies in its versatility. Equipped with infrared, Wi-Fi, and Bluetooth connectivity, this universal remote eliminates the need for additional hubs or docking stations. Thanks to its optimized power consumption, OMOTE can operate for extended periods on a single charge. Moreover, as an open-source project, the design files can be fully customized to match individual devices and preferences.
At the heart of OMOTE is the Espressif ESP32 microcontroller module, driving a vibrant 320×240 capacitive color touchscreen. Kern leveraged the power of the LVGL library to create a custom user interface with multiple swipeable pages. Each device has its own dedicated page with corresponding buttons, while a comprehensive settings page enables further personalization.
OMOTE replaces traditional infrared remotes for a wide range of devices, including TVs, set-top boxes, and HVAC systems. By selecting the desired device page, users gain access to a tailored set of buttons that emit the corresponding infrared signals for seamless control.
You can find details on the project at Kern's Hackaday page, just in case you wish to build one for yourself.
Come and let us know your thoughts on our Facebook, Twitter, and LinkedIn pages, and don't forget to sign up for our weekly additive manufacturing newsletter to get all the latest stories delivered right to your inbox.