It's a busy week of webinars and events in the 3D printing industry! The Paris Air Show is back, and Stratasys continues its U.S. tour, and starts Stratafest as well. ImplementAM heads to Boston, and Desktop Metal is holding an open house there as well. Topics covered in webinars include automated post-processing for FDM 3D printing and post-processing for SLS 3D printing, injection molding vs. SAF technology, AM qualification, medical AM solutions for point of care, and more.
3D Printing News Unpeeled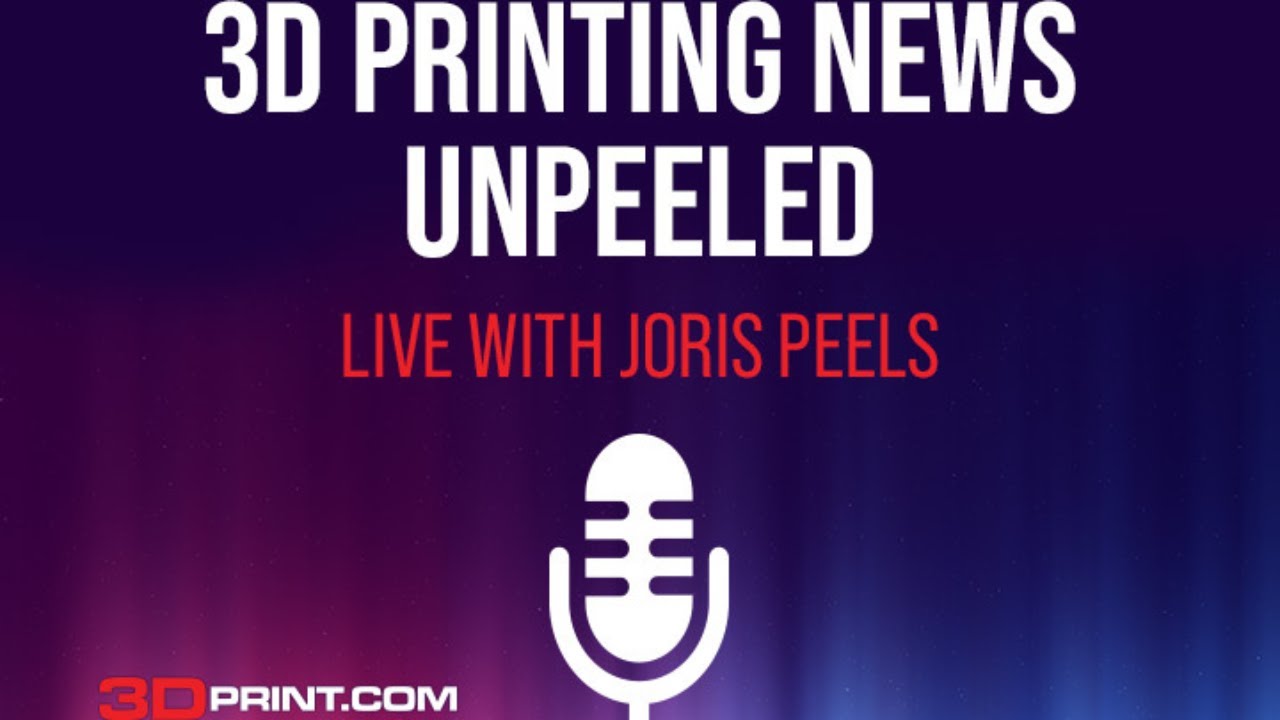 Our Executive Editor Joris Peels, who's also the Vice President of Consulting at SmarTech Analysis, offers a news livestream one to two times a week called 3D Printing News Unpeeled at 9:30 am EST. For each episode, Peels gets on LinkedIn Live and tells us, in 20 minutes or less, what he considers to be the top news stories from the 3D printing industry that week, and why they're important. Some of the stories in his roundup are ones we've covered at 3DPrint.com, and some are not, but they are all equally interesting and impactful.
June 18 – 21: PowderMet 2023 & AMPM 2023
First up, PowderMet2023, the International Conference on Powder Metallurgy & Particulate Materials, and AMPM2023: Additive Manufacturing with Powder Metallurgy Conference, are co-located at Caesars Palace in Las Vegas this week, June 18-21. Sponsored by the Metal Powder Industries Federation and APMI International, there will be over 200 technical presentations from industry experts about powder metallurgy (PM), metal additive manufacturing, and particulate materials, along with networking opportunities and an exhibition hall.
"Attend the PM industry's largest tradeshow devoted exclusively to powder metallurgy, particulate materials, and metal additive manufacturing. With over 100 booths, this international marketplace will present leading companies featuring the latest PM and metal AM equipment, powders, products, and services. This is the best opportunity to meet industry suppliers all together in one place."
You can register for the co-located conferences here.
June 19 – 25: Paris Air Show
Next up, the 54th edition of the Paris Air Show (SIAE 2023) will be held June 19-25 at the Le Bourget Parc des Expositions. The first four days are reserved for trade visitors, and then the show opens up to the general public for the last three days. Over 2,400 exhibitors from 49 countries will converge, along with 304 official delegations from 98 countries, to learn all about the latest offerings in aviation and space technologies, cabin fittings and seats, composite materials, maintenance, services, and everything in between.
"The Show is a special time for every company, providing an occasion to meet up with all the key players in the aerospace industry, seize fresh commercial opportunities, present their expertise and innovations to the world, and form technological and industrial partnerships."
You can purchase tickets here.
June 20 – 22: CSAT 2023 & LSAAT 2023
From June 20-21, the world's leading cold spray event, the Cold Spray Action Team (CSAT) 2023, will be held as a hybrid session, both in-person in Worcester, Massachusetts and online. Then, the second annual Large Scale Additive Action Team (LSAAT) 2023 event will be held on the 22nd. CSAT will discuss the current state of the art cold spray technology, present in-depth data and knowledge about cold spray technology and collaborative projects. LSAAT focuses on AM processes that build large format metal parts, including powder bed fusion (PBF), wire arc additive manufacturing (WAAM), and more.
"Creating a community platform for advanced manufacturing technology to educate, network, and collaborate at CSAT 2023 + LSAAT 2023."
You can purchase tickets for CSAT and LSAAT 2023 here.
June 20: The Experience Stratasys Tour Continues
The Experience Stratasys Tour has hit the road again for another year, its mobile showroom offering designers, educators, and manufacturers a convenient way to see the company's latest materials, 3D printers, and solutions. This week, the tour will only be making two stops, both at Topgolf in Pittsburgh, Pennsylvania on Tuesday, June 20th. One of the stops will be hosted by Stratasys Direct, while the other one will be hosted by Allegheny.
"Speak with 3D printing experts from Stratasys and our partners to find out how your organization can benefit from 3D printing – whether it's bringing a printer in-house or utilizing additive manufacturing services from Stratasys Direct. Let us show you how Stratasys is leading the global shift to additive manufacturing with innovative 3D printing solutions for aerospace, automotive, consumer products and healthcare."
You can register for the Stratasys Experience Tour here. Stay tuned for more dates and locations in the future!
June 20: Automated FDM Post-Processing
PostProcess Technologies will hold one of its How it Works webinars at 10 am EST on the 20th, about "Automated FDM Post-Processing." Attendees will learn all about the company's automated post-processing solution, with a focus on FDM support removal. There will be a demonstration of the solutions, and the chance to ask your questions live.
"Conducted by one of our post-processing experts broadcasting from our lab, you will get a close-up view of how software, hardware, and chemistry work together for transformative end part results. See the solutions running on the proprietary AUTOMAT3D® platform and engage in real-time Q&A."
You can register for the webinar here.
June 21 – 23: APICAM 2023
The third Asia-Pacific International Conference on Additive Manufacturing (APICAM) 2023 takes place in Sydney, Australia from June 21-23. The purpose of the industrial application-focused conference is to offer a focused forum to present advanced research, and improve understanding of different aspects of AM through lectures, presentations, and posters in multiple areas of interest, including AM defense and space applications, bioprinting and biomaterials, emerging AM technologies, modeling and simulation, sustainability, metal and polymer AM, and more.
"APICAM was created to provide an opportunity for industry professionals and academic researchers to come together, share knowledge and engage in the type of networking that is vital to the furthering of the additive manufacturing industry."
You can register for APICAM 2023 here.
June 21: Post-Processing with Sinterit
Another webinar this week about post-processing will be offered by Sinterit at 10 am EST on Wednesday, June 21st. "All you want to know about postprocessing," in terms of selective laser sintering, is a Q&A session, without a pre-presentation. This way, Sinterit experts Jakub Malec, Application Engineer, and Grzegorz Konwalinko, Technical Support Specialist, will have plenty of time to answer all of your questions.
"Our next webinar will be fully dedicated to post-processing. This important phase of SLS 3D printing rise a lot of questions, like:
How to extract parts from the "cake"?

Is it safe?

Is post-processing a messy operation?

How to recover most of the unsintered powder?

How to sandblast parts the proper way?

… and many more.
You can register for the webinar here.
June 21: Injection Molding vs. SAF 3D Printing
Stratasys is holding a webinar at 12 pm EST on the 21st on "Injection Molding vs. 3D Printing with SAF," its powder bed fusion technology. Comparisons will be made between the traditional manufacturing method of injection molding and SAF 3D printing, and attendees will learn about case studies were SAF was successfully used for volume manufacturing. Stratasys speakers will be Alec Logeman, Commercial Applications Engineer, and Allen Kreemer, Sr. Strategic Applications Engineer.
"Recent advancements in the world of 3D printing have made it possible to produce end-use parts in high volumes and low costs, comparable to traditional manufacturing like injection molding. Where does it make sense to use 3D printing to complement or even replace traditional processes?"
You can register for the webinar here.
June 21: FasTech's End-to-End Manufacturing Service
Later in the day on the 21st, at 2 pm EST, America Makes continues its TRX webinar series with "'End-to-End' Manufacturing Service by FasTech LLC." Dr. Yash Bandari, FasTech's Director of Business Development, will show the company's holistic approach to 3D printing metal components with the LMD-w and WAAM wire-DED processes, and illustrate case studies in Inconel, steel, titanium, and other metals. Attendees will also learn the differences between the two techniques, and about scenarios where each one can be used.
"At FasTech, we can manufacture small to medium to large metal parts, fast – ideal for the aerospace, power generation, defense, and medical sectors. Based in Danville, VA we offer a complete range of services including 3D metal printing, 5 & 3-axis post machining, and reverse engineering. Using our GEFERTEC 3DMP® arc 605, AddiTec-MELTIO printing systems, and 5-axis milling and turning systems we can manufacture extremely large parts to very tight deadlines, often up to ten times faster than conventional additive manufacturing methods."
You can register for the webinar here.
June 22: TechBlick Innovations Festival
Kicking off a very busy day on June 22nd, TechBlick will hold its free Innovations Festival, covering printed, flexible, hybrid, 3D, wearable, and textile electronics. Over 65 talks are planned for the virtual event, as well as more than 70 exhibitors for the 700+ attendees to visit and plenty of networking opportunities on a virtual platform. A variety of AM and related topics will be covered during the event, such as 3D printed electronics, wearable medical sensors, semiconductor production, robotic platforms, printed batteries, and more.
"This is a carefully curated event weaving together fantastic talks with superb networking and immersive virtual exhibition where you can move around with your own avatar.

"The programme covers all key application and technology advancements, reflecting the beautiful diversity of this field."
You can register for TechBlick's free online Innovations Festival here.
June 22: ImplementAM in Boston
The next one-day additive manufacturing workshop by ImplementAM will be this Thursday, June 22nd, in Boston, Massachusetts. Starting at 8:30 am EST at the Lord Hobo Brewing Company in Woburn, attendees will begin a day of collaboration, learning, and networking as they learn technical foundations of key industrial AM technologies, as well as the business cases behind AM in small group workshops. Plus, as part of the workshop series, one K-12 school in the Boston area will receive a 3D printer package and training from MatterHackers, as voted on by attendees. The day ends with a happy hour to encourage networking with local advanced manufacturing professionals.
"It'll be a dynamic day involving plenty of networking opportunities as well as group activities designed to create a more interactive learning experience. Expect educational presentations from EOS, HP, Tritone, MIT, and others."
You can register for the Boston workshop here.
June 22: Design for AM Polymers
Also on the 22nd, there will be a free online seminar on "Design for AM – A Focus on Polymers," which includes a three-minute research competition for early career researchers. Hosted in collaboration with UK Research and Innovation's (UKRI) Engineering and Physical Sciences Research Council (EPSRC) and Dr. Candice Majewski, Senior Lecturer in Mechanical Engineering with the University of Sheffield, the event starts at 5 am EST (10 am BST) and will offer insights into the many industrial opportunities presented by polymer AM, as well as how to get the most out of these processes and where we're going in the future. In addition to hearing from several industrial and academic speakers, there will also be an opportunity for participants carrying out early career research in polymer AM to present a summary of their work.
"Speakers will include:
Luke Fox from Jaguar Land Rover – Current limitations of polymer AM from an automotive perspective

Guy Bingham from NTU – Design opportunities presented by polymer AM

Mark Cocking from AMRC – Examples of polymer AM from design, through printing and into final use

Martin Kirk from Laser Lines – An overview of several of the main AM processes and how they can apply to industry and academia

Andrew Graves from Stratasys – How the world of polymer AM has changed over the year

Richard Bibb from Loughborough University – Medical applications of polymer AM

Hoda Amel from MTC – Applications for polymer AM
You can get a ticket to the free online seminar here.
June 22: Novel Methods for AM Part Qualification
At 10 am EST on the 22nd, ASTM International's AM Center of Excellence (AMCOE)  will hold a webinar on "Unlocking the Bottleneck: Novel Methods for Qualification of AM Parts." Two of the biggest barriers to metal AM adoption are consistently the testing and qualification of 3D printed parts, which are plagued by the high costs associated with printing and (mechanically) testing coupons. Attendees will learn the limitations of tensile testing for 3D printed materials, PIP testing and its benefits, best practice guidelines to be applied, and more. The instructor will be Jimmy Campbell, the CTO of Plastometrex, which provides unique and advanced mechanical testing solutions for metallic materials.
"This talk will explain the fundamental science behind a novel testing technique, Profilometry-based Indentation Plastometry (PIP), already in use by major AM OEMs to determine the stress-strain characteristics of metallic materials. It will also explore how the technology is helping current AM users overcome challenges such as testing turn-around times and costs, as well as benefits including mapping the properties of components, and the flexibility to test very small samples and whole parts."
You can register for the webinar here.
June 22: Stratafest Heads to Detroit
In addition to its ongoing Experience Stratasys tour, the company is also holding afternoon Stratafest events, which will feature immersive demonstrations of its newest technology, as well as networking, career advancement opportunities, and inspiring sessions from Stratasys customers, partners, and industry experts. The first of four Stratafest events across the U.S. will be held this Thursday the 22nd, at 1 pm EST, at the SEMA Garage Detroit in Plymouth, Michigan, with a focus on 3D printing and Industry 4.0 in the aerospace and automotive industries. Attendees will see real-world examples of how customers use 3D printing to become more agile in manufacturing, enjoy food trucks and great music, and more.
"Our objective in creating this event series was to ensure that the educational experiences found at corporate trade shows are accessible to all. Through a series of four events nationwide, we offer a more personalized and focused approach, encompassing everything you love about tradeshows."
You can register for this free event here.
June 22: Metal 3D Printing Cost Comparison with Desktop Metal
At 2 pm EST on the 22nd, Desktop Metal will hold a webinar on "Cost-Effective Metal Part Production: Metal 3D Printing Cost Comparison," together with FreeFORM Technologies. FreeFORM has both metal injection molding and metal binder jetting in-house, and the webinar will explore metal AM compares to traditional manufacturing methods through a detailed comparison of the advantages and disadvantages of both. Tiana Gould, Desktop Metal Regional Technical Manager, and Chris Aiello, VP of Business Development, FreeFORM Technologies, will go through cost modeling, explore the factors that impact cost breakdowns, compare the process steps and design considerations of the technologies, and more.
"Metal 3D printing is no longer a novel technology, yet how it compares to traditional manufacturing processes—especially on cost—can still be an ambiguous equation. It has a reputation for being expensive, but it that a true apples-to-apples comparison? And how does the equation change if metal 3D printing is being evaluated as a complementary (instead of competitive) method?"
You can register for the webinar here.
June 22: Medical Solutions for Point of Care with AM Coalition
Finally, at 3 pm EST on June 22nd, the Additive Manufacturing Coalition will hold a virtual forum on "AM Medical Solutions for Patient Point of Care Opportunities." Panelists for the forum include Dr. Summer J. Decker, Director for 3D Clinical Applications, University of South Florida Health Morsani College of Medicine and Tampa General Hospital; Scott Drikakis, Global Medical Segment Leader, Stratasys; and Dr. Jonathan Morris, Medical Director Anatomic Modeling Unit, Mayo Clinic.
"Come hear about where Additive has created solutions for patients at the point of care."
You can register for the Zoom forum here.
Do you have news to share about any future webinars or virtual and live events? Please let us know!
Subscribe to Our Email Newsletter
Stay up-to-date on all the latest news from the 3D printing industry and receive information and offers from third party vendors.